Staircases are an architectural staple in both residential and commercial projects. Our precast concrete stair treads and landings can create a staircase that adds a bold statement to any interior or exterior environment. Capable of interfacing with a variety of stringers, supports, and handrails, Concreteworks East will help bring any design to life. A stair tread functionally serves as the stepping surface of a staircase, but it is also the most visually defining component of an open riser design. The color, shape, and size of the stair treads help create the overall physical presence of the staircase. Custom architectural concrete offers designers a level of customization in shape, color, and texture unmatched from any other material.
Our concrete stair treads can be fabricated in a variety of forms to best suite any type of stair design. Whether you are looking to cap an existing stepped structure or are looking to create an open riser staircase in creating a bright, open, and inviting space, concrete stair treads offer a high level of aesthetic and functional flexibility. Safety is always a concern in designing a staircase, especially for an exterior or public staircase. Concreteworks East will work with you in achieving that level of safety and comfort. We have the capability to cast in a variety of abrasive strips and also acid etch the surface to create a grittier texture that provides additional slip performance.
Contact the Concreteworks East team today so we can assist you in how to bring your vision to life at info@concreteworkseast.com or (732) 390-9944.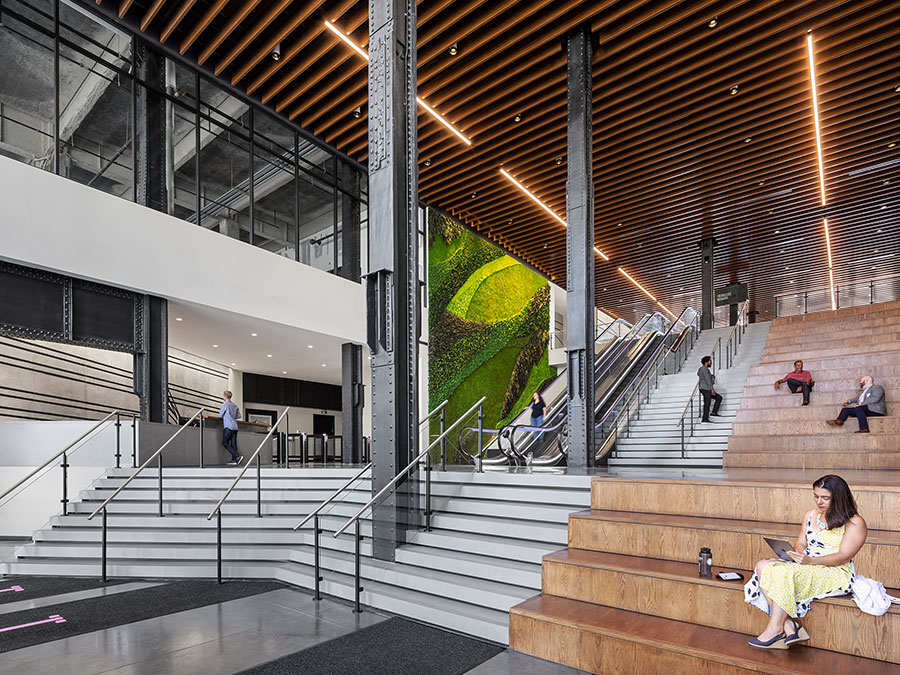 Resin (multiple colors available)
Non-Structural or Structural
Concreteworks East's custom precast stair treads are fabricated using Glass Fiber Reinforced Concrete (GFRC). It is a lengthy name, given to a durable and strong material, that is sure to last you a long time. However, despite its strength properties, precast stair treads should primarily be viewed as decorative element and not a structural element. Concrete treads are typically designed with a continuous void though the underside, which allows a structural channel, plate, or any other structural member to be connected from stringer to stringer (see diagram below). This discrete feature helps in distributing the stepping loads and the weight of the treads in connection to the main structure. This design also allows for easy installation of the stair treads as the structural member serves as a setting surface. Engineering our GFRC stair treads to be structural is possible, though many factors must be considered. Please contact us for more information.
Concrete Treads for an Open Riser Staircase Staircases are an architectural staple in both residential and commercial projects. They often act as the focal point for many home entrances or businesses,…